Modiphius Announces Homeworld: Fleet Command, Facebook Competition + 2d20 Group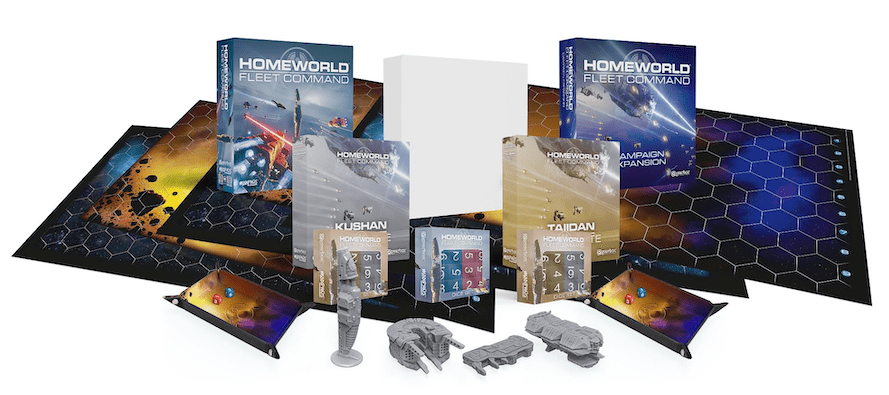 Modiphius brings exciting news to tabletop gamers and Stargate fans. The epic Homeworld: Fleet Command is available for pre-order, offering players a thrilling experience in the Stargate universe. Alongside this, there are details about a special competition and a brand-new 2d20 Facebook group for enthusiasts of the system and roleplaying games. Plus, there's a sneak peek into the world of Achtung! Cthulhu.

Latest Modiphius Press Release
The epic battle between the Kushan and Taiidan will soon be yours to control! Homeworld: Fleet Command, based on Gearbox's award-winning video game series, is now available for pre-order! Webstore pre-orders are expected to ship in December after the original Kickstarter backers have had their pledges fulfilled.

The product line includes the core game box, the campaign expansion, Kushan and Taiidan fleet box sets, and several bundles in order to provide players with the definitive Homeworld tabletop experience.

Check out all the product pre-orders now, or read on for a summary!
Grand fleets clash in fast-playing tabletop battles set in the Homeworld universe! Take command of Kushan or Taiidan fleets in epic battles. Solo rules allow one person to play either side against a determined AI opponent, or up to four players can share command of the same side or team up against each other. Multiple copies of the game can be combined to create epic fleet battles.
Embark on a 10-part campaign that will take players from their first fighter skirmish to huge battles such as Return to Kharak, Supernova Station, and Tenhauser Gate. With several step-by-step scenarios included, players can jump right into the shoes of an Admiral and gradually learn the core game mechanics as the size of their fleet increases! The core game box features over 100 models of Fighter squadrons, Corvettes, Frigates, Destroyers, and fleet-busting Capital Ships, including the iconic Mothership itself!
Campaign Expansion
Players can take their conquest of the stars to the next level with the Campaign Expansion. Amass an even bigger fleet and take your battles in space to a whole new level with 100 new ships and new unit cards. Upgrade ships through the new eight-part campaign, plus play with new rules for Nebula, Planetary Facilities, Heroes, Cloaked ships, and Barrage attacks.
Kushan and Taiidan Fleet Boxes
The Kushan Fleet Box (in Grey or Blue) and Taiidan Fleet Box (in Yellow or Red) each contain 102 coloured plastic spaceship models, an extra Command Card Deck, and unit cards to support more players!
Bundles
Five Homeworld: Fleet Command bundles are available for players to get the experience best suited to them. Each one contains the Scout Box, which adds more capital ships, stealth fighters, extra Command cards for bigger games, new fleets, and will also come with six PDFs (including three scenarios, a campaign, the solo player's guide, and rules for an RPG/board game crossover). Scout Box content is only available as part of these bundles.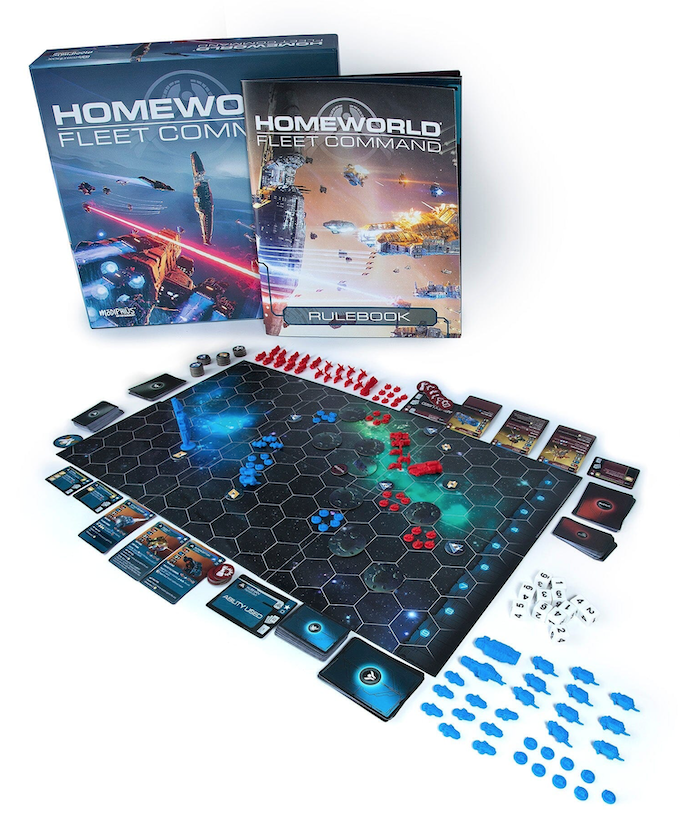 Cohors Cthulhu's Kickstarter
We are also launching a competition worthy of a Roman Emperor inspired by Cohors Cthulhu's Kickstarter success.
As a way to thank the community for the outpouring of support at the Kickstarter launch, we are looking to shower 3 lucky participants in a veritable emperor's bounty of goodies, with a massive $1,600 of prizes. All you have to do is LIKE and SHARE this competition post on Facebook.
Winners will be picked at random at 9am GMT on Thursday 26 October with the first out of the hat winning the top prize of $1,000 to spend in the Modiphius Webstore or on the Cohors Cthulhu Pledge Manager. Two smaller prizes of $300 are also up for grabs.
So what are you waiting for soldiers, the end of the world?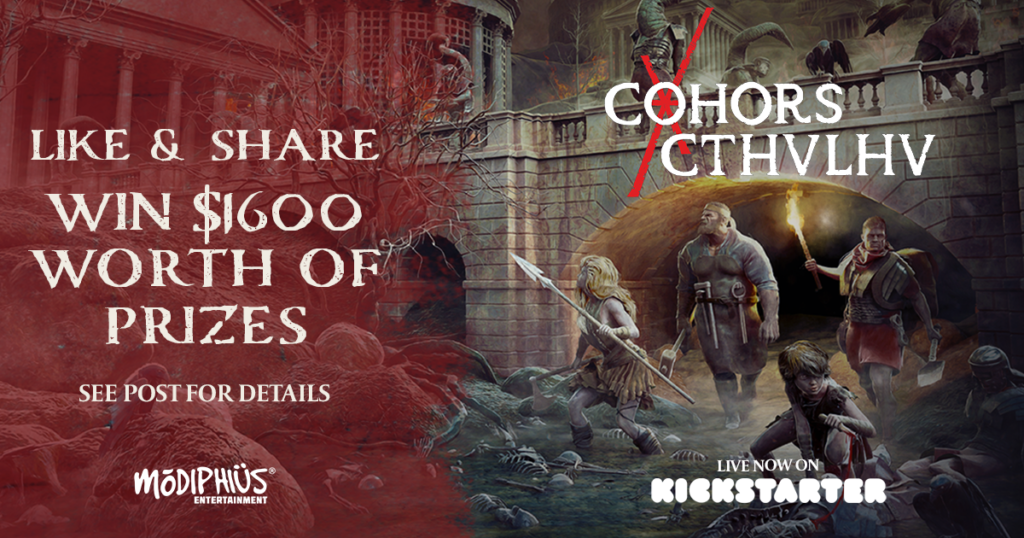 OFFICIAL 2d20 FACEBOOK GROUP
We've set-up a brand new community group on Facebook for all fans of the 2d20 system and our 2d20 roleplaying games. This is the official group, moderated by Modiphius folks, and it will become a great place to come for queries, questions, and just hanging out with other 2d20 fans. So join the group now to get in early on the new space, and you can check out our other socials links at the bottom of this email.
It is March 1940 and Nachtwölfe has dispatched a secret expedition to an uncharted island colloquially known as Threshold in the US territorial waters of the Bering Strait.
Intercepted intelligence has alerted Section M to the expedition's presence and agents are recruited as part of a joint Anglo-US mission to investigate and interdict. They must make a dangerous crossing to the island, traverse the challenging terrain and fearsome weather, navigate perils and predators and infiltrate a mysterious excavation site.
But what has drawn Nachtwölfe to this obscure islet which separates Alaska from the USSR ? Who is the mysterious Professor Sauber, the scientist leading the expedition and why are the Night Wolves so desperate to recover whatever lurks forgotten beneath the ice?
When it is finally released from its frozen prison, how will the agents deal with a prehistoric monster that has been created by long lost Mi-Go technology? Will they be able to stop it before it escapes to prey on ports and shipping in the Pacific? And how will the Deep Ones respond when they learn of this newly escaped Mi-Go threat?
Find out in Operation Cold Threshold!
You may also like to check out the DriveThruRPG Halloween Sale which includes many Achtung! Cthulhu titles.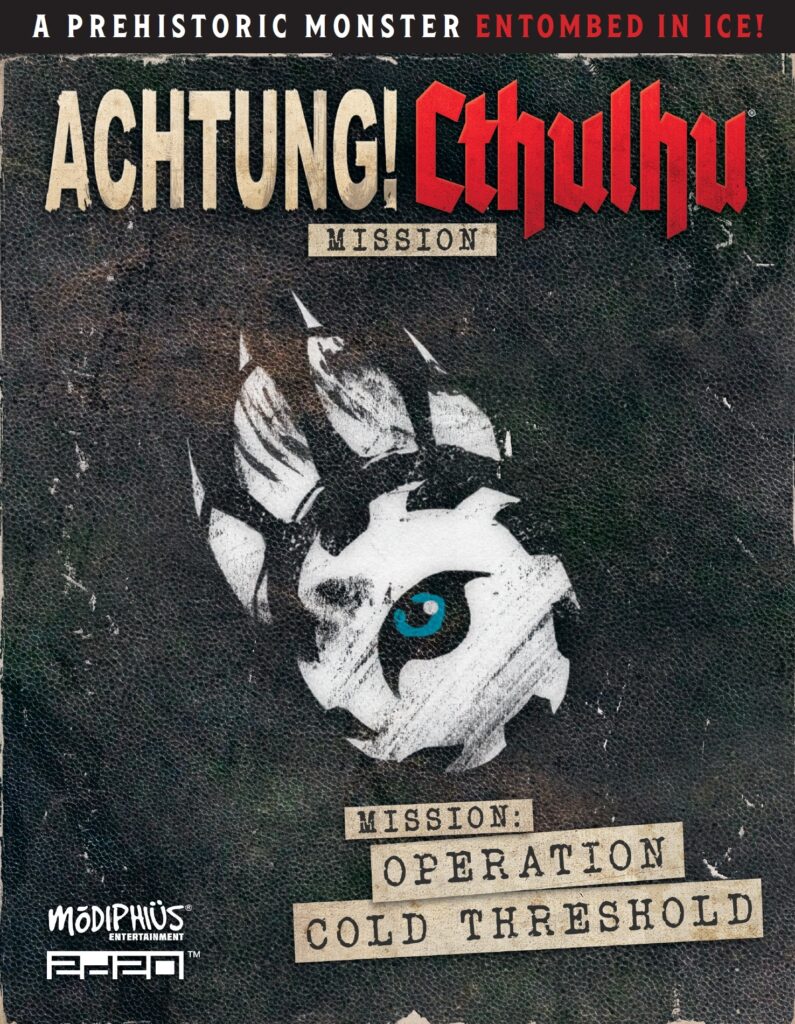 Exciting Tabletop Gaming Ahead!
Exciting times lie ahead for tabletop and roleplaying game fans. Modiphius has brought us a range of thrilling updates, from the epic Homeworld: Fleet Command pre-order to an incredible competition, a new Facebook group for 2d20 enthusiasts, and a tantalizing glimpse into the world of Achtung! Cthulhu. Get ready to embark on epic adventures, both in space and in the mysterious realms of the 2d20 system. Don't miss out on the chance to explore new horizons and test your gaming skills with these fantastic offerings from Modiphius. Your next gaming adventure awaits!