Description
SILENT HILL: BETRAYAL (EXTENDED EDITION)

BOOK 1 OF THE SILENT HILL SERIES
#The Extended Edition of Silent Hill: Betrayal contains all the original text of the Vanilla Edition, but includes the Gamer Extras, such as maps, images, and the alternative endings. Every effort has been made to ensure that images show properly on several Reader devices and apps. If the images are not showing correctly on your device / app, please try an alternative one for maximum enjoyment#
"Silent Hill has more than once canvas, painted by the taint of your sins. Consider this your personal hell."
Trevor wakes up from another nightmare of Silent Hill just before getting a call that the police are after him following the apparent suicide of his wife, Caroline. He barely escapes with his lover Kathy and best friend Jay Nixon, the police force hot on their tail on the dark highway. During the pursuit, a mist covers the road and a strange man with a metallic object on his head causes them to crash on the outskirts of Silent Hill.
When Trevor awakens, he finds himself alone at the scene of the accident with no knowledge of where the others are. His search for them not only reveals that the town is haunted with terrifying creatures, but is also tainted with clues of Caroline's presence. As his struggle through the misty town leads him closer to Kathy's whereabouts, Trevor learns the truth of Caroline's death. And with this knowledge, he discovers that everyone that had a part to play in her misery has been brought together to Silent Hill to account for their sins.
In the midst of the pain and the blood stands Caroline's mysterious guardian with the metallic stained pyramid on his head… and he is ready to exact justice for their betrayal…
**WARNING**
This Silent Hill novel is suitable for adults (18+) only. It contains horrifying & sexual content. Some scenes may be considered violent, grotesque or disturbing. Do not read if you are offended by such content or if you are under the age of 18. The acts that occur in this story are not meant to encourage similar acts in real life.
Please note that the book reads like the game would play out. The author made every effort to make it feel like you're running through a new Silent Hill game in the form of a book. We're also working on a Silent Hill soundtrack for the novel, similar to what Silent Hill 2 OST was like.
If you liked the Silent Hill 2 original soundtrack, stay tuned.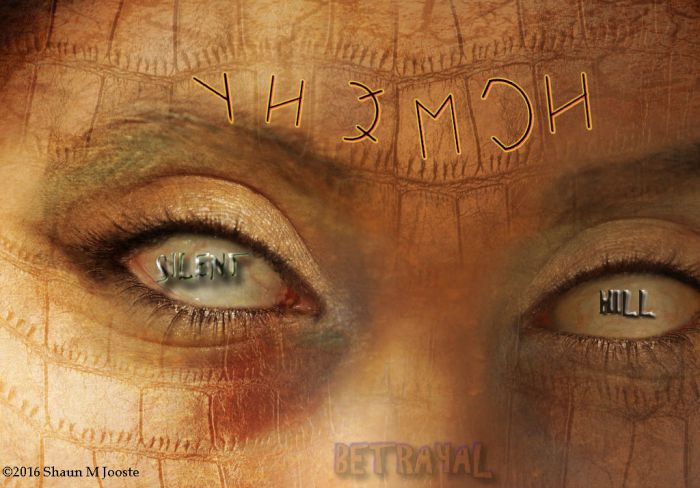 SILENT HILL: BETRAYAL FEEDBACK
"@Shadowolfd Finished Silent Hill: Betrayal. It was one hell of a ride…. the book lives up to its name"
@Tanshaydar, Twitter
"I'm loving Silent Hill: Betrayal. It's like a return home. Your book is really worth the read."
Reddit Private Message
"Not only will Silent Hill: Betrayal appeal to the many Silent Hill fans that are out there, but can be enjoyed by a wider audience as well. I urge people to go and get this book, it's great both in writing style and content matter."
Andi Hodgetts, Pulse Entertainment UK, Rating: 8/10
"The whole story is accurate to the (Silent Hill) series in many aspects. It was a gripping story that kept me wanting to know what was next! Jooste showed a detailed knowledge of the story and the functions within Silent Hill."
Dean Clark, GameTyrant,  Rating: 8/10
INTERVIEWS & ANNOUCEMENTS
MySilentHill – Interview by gaming journalist and SH fundi, HB Duran: 'Exclusive: 'Silent Hill Betrayal,' A Horror Novel Coming Soon'
NAG Online – Announcement: 'Nobody gets out alive in Silent Hill: Betrayal, a novel by local indie writer Shaun Jooste'
Tanshaydar – Interview by Turk journalist and founder of Turkey's SH Community, Tansel Altınel: 'Interview with upcoming 'Silent Hill: Betrayal' author Shaun Michael Jooste'
Tygerburger Newspaper – Interview by Cape Town journalist, Andre Bakker: 'Local Writer Does It Himself'