Loretta Review | Try this New Noir Psychological Thriller Game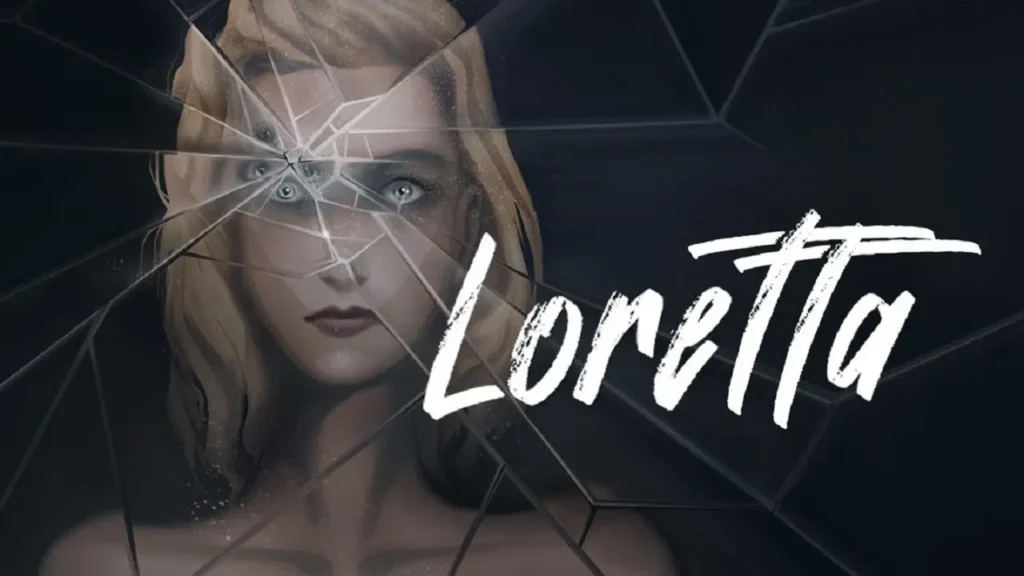 Loretta Review | New Psychological Thriller Game for 2023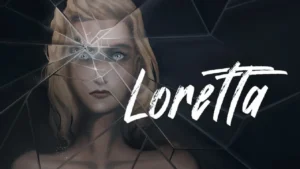 Our Loretta review covers the story, gameplay, visuals, and sound for this new psychological thriller game. Check the details here!
Operating System: Windows 11
Application Category: Game
Our Loretta review covers a psychological thriller game developed by Yakov Butuzoff and published by our friends in DANGEN Entertainment. It features a 2D platform environment with basic gameplay, interesting sounds and visuals that will haunt you, and a mysterious Noir tale of murder and mystery. It's set to launch on 16 February 2023 for PC.
So join us on our Loretta review as we explain how the story unfolds without spoiling it for you. We'll also explain some of the gameplay elements and tell you which parts we enjoyed the most. Feel free to watch our gameplay video below.
Loretta Review: Intense, thrilling story
At the heart of the game is the story that reveals a murderous tale. The way it plays out carries plenty of suspense. Even though it reveals early on who the killer is, you'll still want to continue to see how it all unfolds. We'll try not to spoil too much of it in our Loretta review.
Something isn't right here
When Loretta begins, the psychological thriller reveals that the husband, Walter Harris, is missing, it's clear from the start that something isn't right. There's an investigator trying to work out what happened, but it feels like Loretta isn't quite innocent in all of this. It doesn't take long to discover that she truly isn't, but discovering the murderer isn't the point of the game.
Loretta's tale
For the next round of the game, you go back to when Walter was still alive. You see his adultery, gambling issues, and other factors that made them lose their place and move to his parents' farm. As you continue to explore, it becomes obvious why she took the actions she did toward Walter.
Investigating the murder
At the turn of the tide, playing the game for our Loretta review let us take the role of the sheriff as he answers Loretta's call about her husband going missing. While you, as the gamer, already know who killed him, you still come across some twists while making sure the wife doesn't try and throw you off her tail.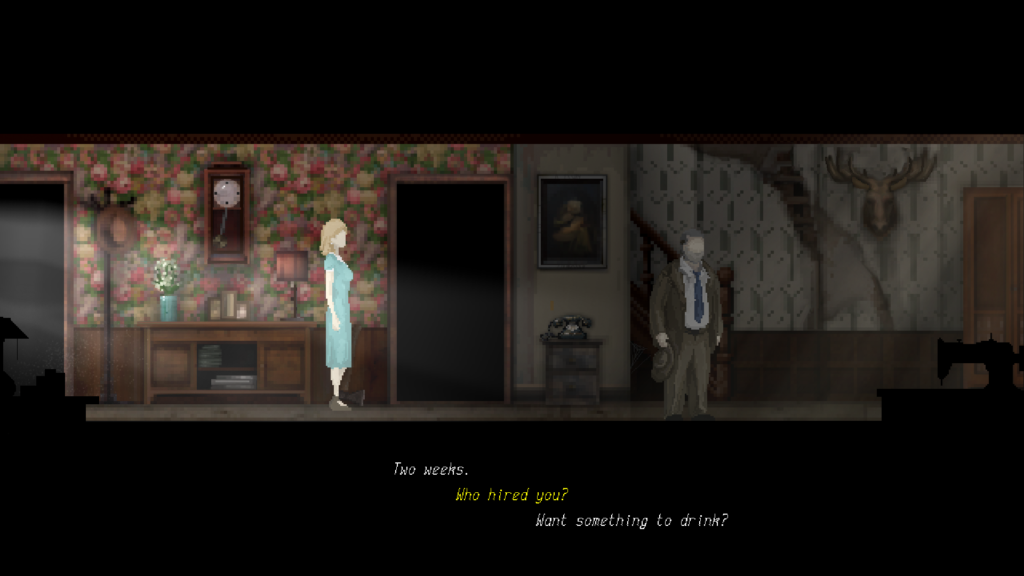 Loretta Review: Basic gameplay elements with puzzles
Alright, enough about the story, and we hope it didn't spoil too much of it for you. Let's now turn the focus of our Loretta review to the gameplay elements and what you'll encounter when playing the game.
Moving around and finding objects
Since Loretta is a 2D platform game, you'll mainly move from left to right or vice-versa. There are some options to enter rooms or outside areas, but only when it's the right time to do so. That makes the game pretty linear, with only a few options when investigating an area.
Engaging in conversation
Along the way, you'll have the chance to reply to those you are conversing with. You'll need to answer carefully, as some responses have dire consequences. Others will lead you towards the same story path anyway, but with a different twist.
Branching story arcs
You can interact with various objects in the Loretta game. Here, you'll also need to be careful what you choose to do. If you perform an action that will reveal you as the killer or something similar, you'll end up dead. Also, the storyline arcs differently depending on what you choose to do in some cases.
Solving puzzles
You'll also have the opportunity to complete small mini-game puzzles along the way. Sometimes, these occur between chapters. It's an interesting take on psychological puzzles with Noir twists to them. You'll need to take a moment to work out how the gameplay works for each of them before proceeding. There are intentionally no in-game guides, so you can work them out yourself.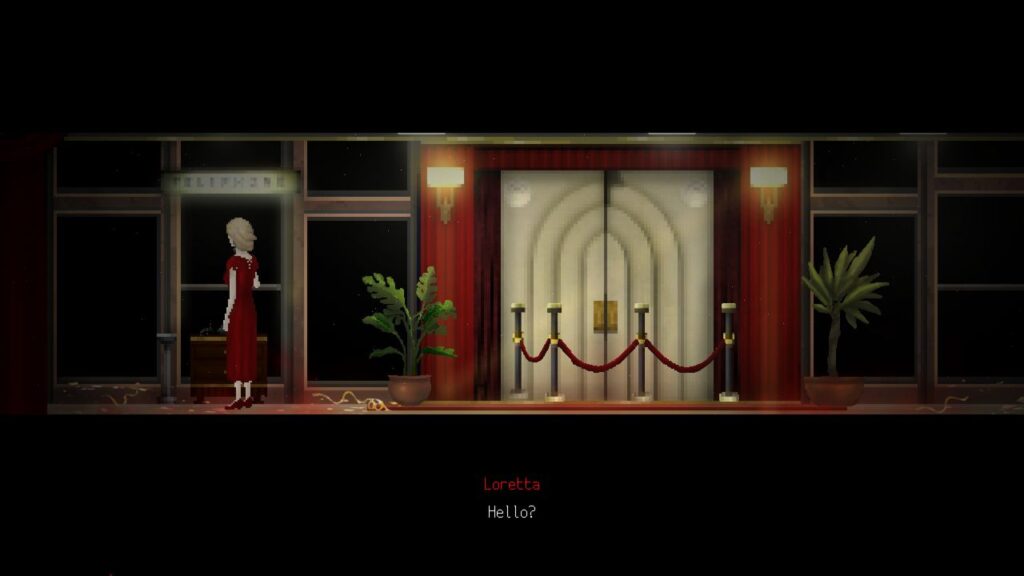 Loretta Review: Retro visuals and sound
While the story is thrilling and the gameplay has some exciting moments, the visuals aren't high on the grading scale when you look at today's games. Instead, it has retro graphics that are quite basic, with the characters not even having faces on their heads.
Let's take a closer look in our Loretta review.
Classic, basic visuals
The Loretta psychological platformer game presents basic visuals in most cases. You can't really tell what to interact with until you walk past an item and an icon appears for it. The characters don't have too much detail, while most of the graphics have a retro, Noir touch to them. You can choose to play in colour or monochrome.
Well-designed environments
While the visuals are basic, there are stunning, well-designed environments. Some rooms have delicate details that you may appreciate. Besides the farmhouse, you'll also explore other locations as part of the story.
No voice acting, but thrilling sound effects
You won't hear any voice acting in this classic Noir tale. There is music in most of the areas to fill the silence and add to the suspense. Sounds effects also accompany actions and shocking moments, which also make you feel tense when things are about to go down.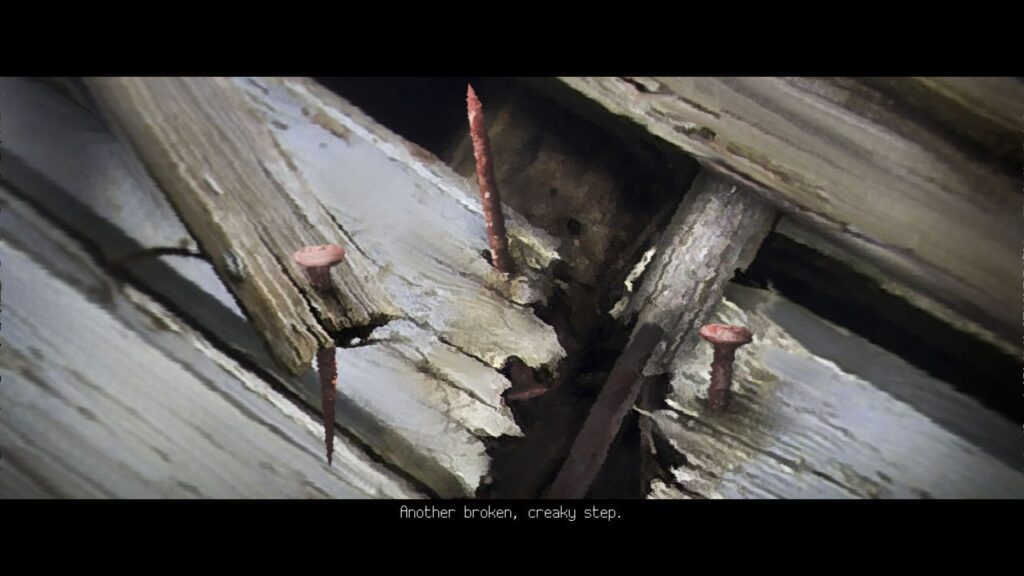 Loretta Review: Final Verdict
So for our Loretta review, do we recommend the psychological thriller game with Noir themes? If you love mystery games with retro graphics and puzzle elements, it's definitely worth buying and playing.
There are some interesting elements you don't see in many games, with plenty of words on the screen to keep you engaged. I love that you already know who the killer is and why, but the tale still keeps you wondering what will happen next.
The gameplay is basic, so you won't encounter complicated button combos or fight scenes. All in all, there's a specific niche of gamers that will love what the story and mechanics of Loretta have to offer, while others may not enjoy it as much. As for me, it was thrilling to play, and I hope we see another game like this from the developer in the future.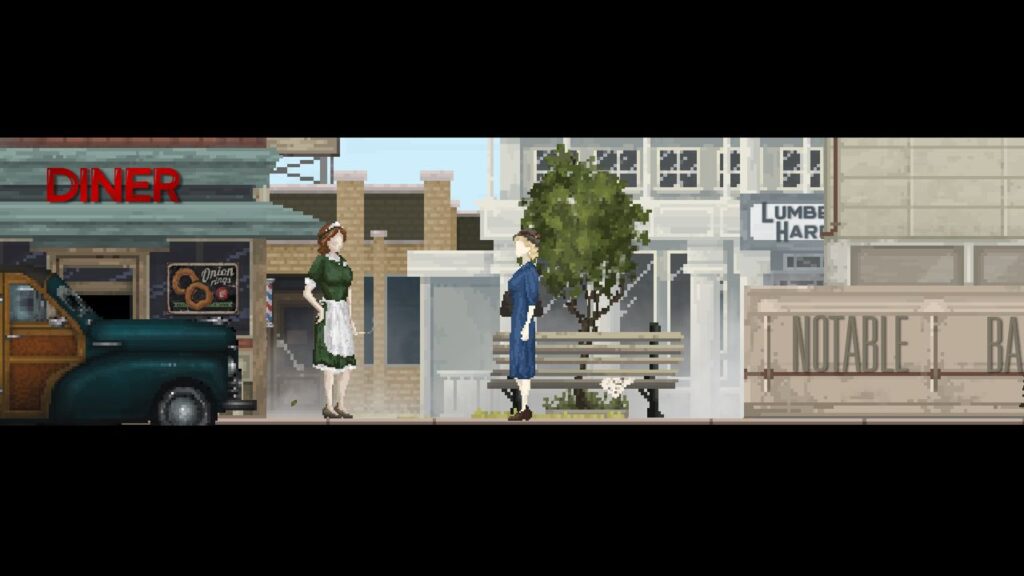 Do you like thrillers, fantasy and mystery?
If you're a fan of these types of stories, you may want to check out our online bookshop. We have many books and short-story collections in these genres. Our CEA Greatest Anthology Written has 109 stories across many genres, including thrillers and mysteries!
So please support us and see which book interests you the most!