Wildmender Review PS5 | Exciting Desert Gardening Survival Game
Wildmender Review PS5 | Exciting Crafting Game for 2023!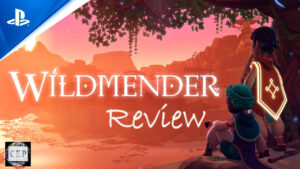 Check our Wildmender review where we reveal the story, gameplay, visual, audio, and replayability elements. See if it's worth buying and playing!
Operating System: PlayStation 5
Application Category: Game
Welcome to our Wildmender review, played on the PS5! Wildmender is a desert gardening survival game developed by Muse Games and published by Kwalee. It launched on 28 September 2023 and has over 30 hours of gameplay, if not more. There are elements of crafting, survival, combat, and adventure.
The ultimate goal of Wildmender is to turn the arid desert into a haven of trees, grass, and plants, with small animals that will join your side. You also help deities restore their shrines, while they imbue you with magical powers.
Read more below in our exciting Wildmender review for the PS5! Here are two gameplay videos we streamed live on Twitch when the game launched.
Disclaimer: I received a free PS5 code for my Wildmender review, but this doesn't change my opinion of the game in any way. I'm utterly addicted to this game.
Wildmender Review Section 1: Story
Let me begin my Wildmender review with my favourite part of any game: the story. Fortunately, there is plenty to uncover, and it will keep you intrigued every step of the way. You'll also have spare time for other tasks. While I didn't play any multiplayer mode, I do believe you can play up to four players online, but not on the same screen or PS5.
Lost in the Desert
When you start playing Wildmender, you appear in a vast desert land, with hills and mountains as far as the eye can see. Luckily, there's a spirit nearby who detects your presence, giving you the history of the land and how it needs a hero to save it. It shows you how to build a shelter against the harsh sun and sand.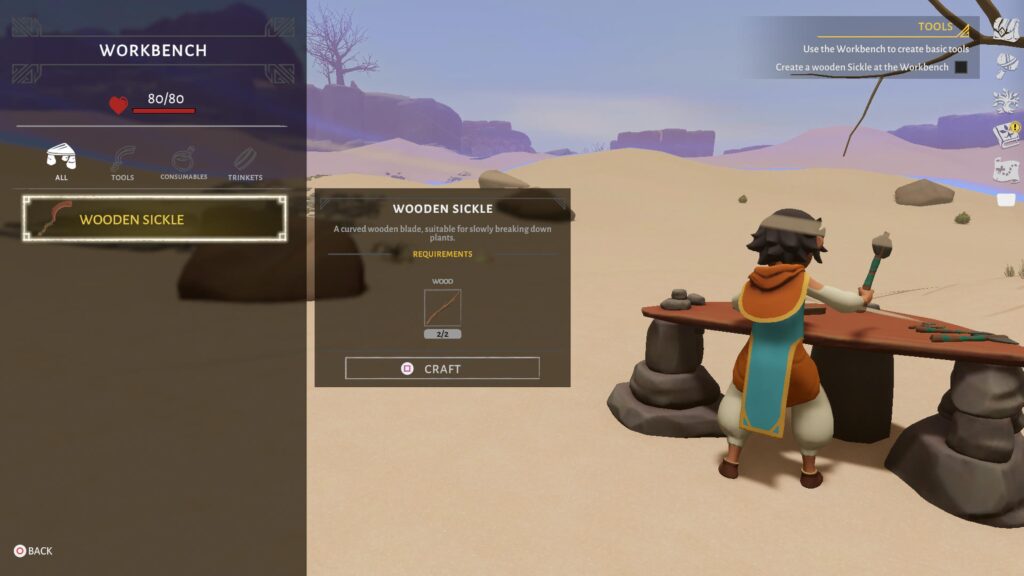 Reviving the Sands
From this point onwards, the main plot of the story revolves around restoring the land. You'll see these water springs in various locations, which is where you can dig and build streams and rivers. With the seeds you collect, you'll be able to plant new bushes and trees, returning the fertile soil that was lost so long ago.
Saving the Gods
While playing the game for my Wildmender review, I came across these massive ruins that were once shrines to different deities. You need to revive these structures so that these gods can give you specific powers assigned to them. Also, they provide you with main and side quests that help to advance the plot.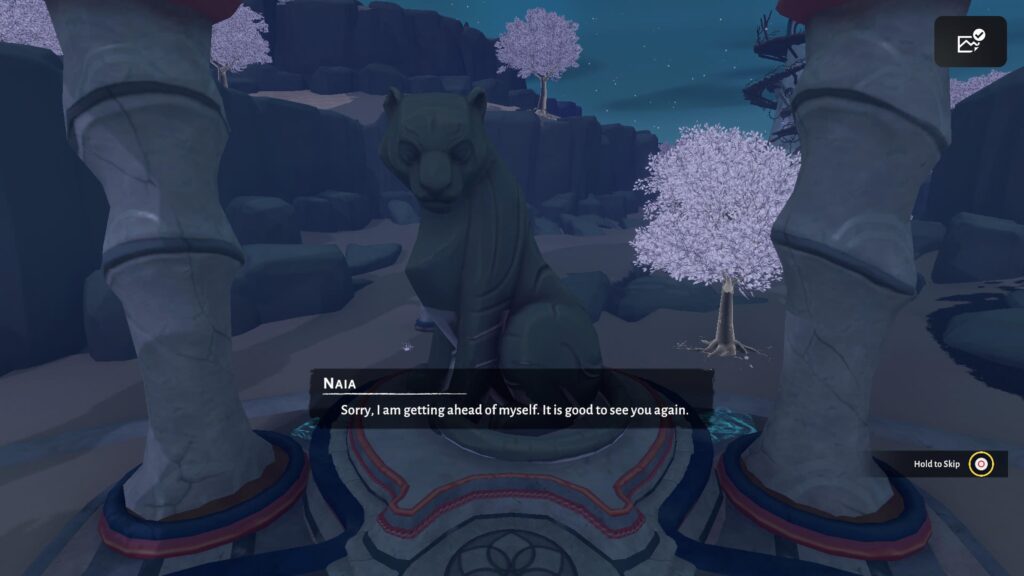 Meeting Ghosts, Eliminating Wraiths
One of the key tasks you'll have at night is meeting up with the good spirits and having a chat with them. Later, you'll unlock a spirit altar that you use to locate new ghosts that help you with new abilities and character buffs. Also, they are essential to stretching your reach across the sands and finding out what happened to the land. However, you'll also meet evil wraiths that terrorise the shrines and try to stop you every step of the way.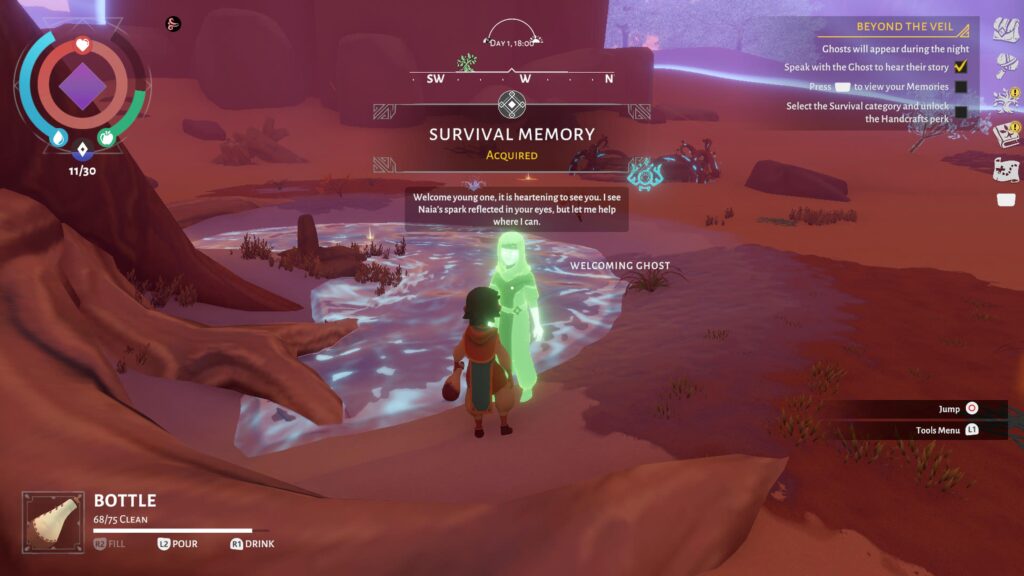 How Long to Play Wildmender?
So, the official statement is that the game takes you over 30 hours to complete the story. For my Wildmender review, I find it can take you much longer if you spend too much time restoring the various areas of the map before proceeding with the main quests. I've been playing it off and on since it launched, and I have over 40 hours already, and I'm sure I can bring in more! It only ends when you want it to!
Wildmender Review Section 2: Gameplay
Alright, so now that you have the idea of the story from my Wildmender review, it's time to delve into the gameplay mechanics. Here, I'll share what elements you'll encounter and what my experience was like with them.
Learning How to Play Wildmender
Remember that spirit at your home base I spoke about early on in my Wildmender review? Well, it's going to teach you a thing or two about surviving. Every time you come across something new that's important, it will light up with a quest icon. You'll discover new ways to live, craft, and survive, as well as unlock new abilities and items. It's essential that you master the combat lessons, as those wraiths will be attacking you soon.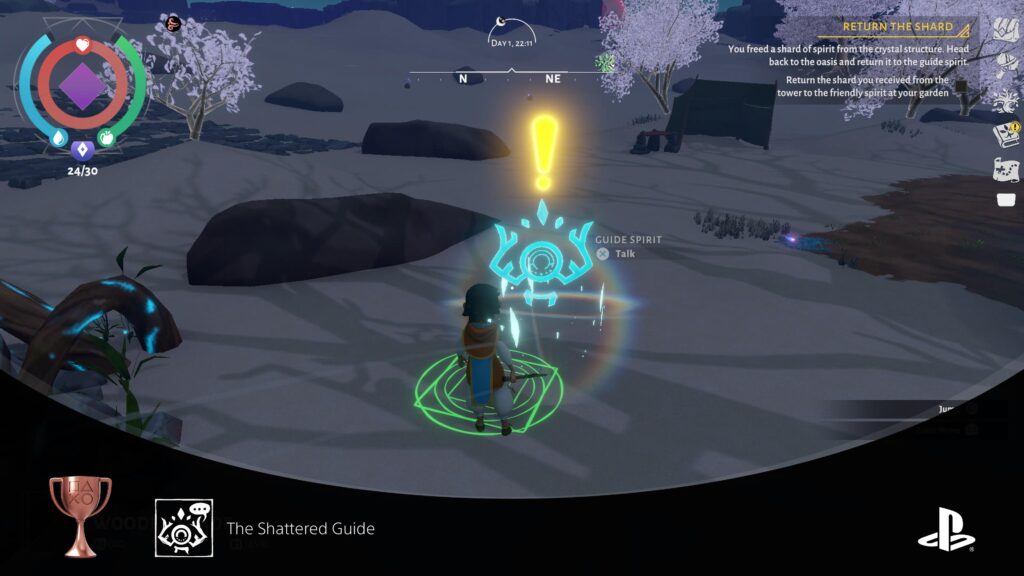 Constructing Tools and Shelters
One of the first gameplay mechanics you'll come across in Wildmender is crafting a shelter and tools. The interface is pretty easy to understand and use, and you have different menus for various tables and workbenches, including your inventory. I didn't have too much difficulty browsing the selections, and I always became excited when there was something new to build! While some ingredients are challenging to find, it's worth the journey.
Day/Night Cycle
While playing the game for my Wildmender review, I enjoyed experiencing the Day/Night cycle. I'm used to games where you head out in the day and perform quests and then stay home at night to craft. With this desert survival game, it's best done the other way around. With that hot sun boiling down on you, you become thirsty much quicker, which means gulping that water bottle you take with you.
Also, the friendly ghosts only appear at night, which you need to obtain new abilities and progress in the story. So, the day is best used in the shade of your home, watering your plants and caring for your garden. At night, you'll explore, obtain resources, and complete vital tasks.
Expanding the Lush Lands
Another one of your initial goals is to bring life back to the desert. You'll spot dead plants and trees along the way, which are useful for obtaining plant fibre, wood, and especially seeds. With this last item in hand, you can head back to your home and plant them.
However, you need to make sure there's fertile soil and water nearby. Also, they will become thirsty during the hot day, so you'll spend time watering the ones furthest from the stream or river. When you stand by the central shrine, you'll see a radius indicating how far you can grow your garden. Also, it reveals how much water is provided and how far it will flow. You can expand these numbers as you progress through the game.
For my Wildmender review, I found this to be the most enjoyable experience. Sure, fighting the wraiths and unlocking the mysteries were also entertaining. Still, I spent several hours simply planting, checking if the fauna was happy, checking in with the animals that I tamed, and expanding more bases.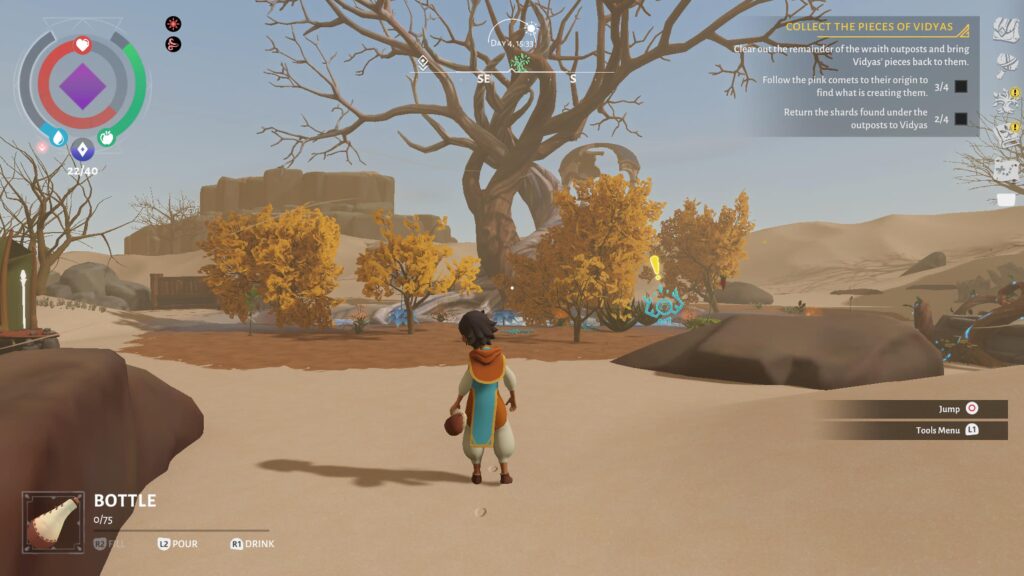 Exploring the Desert
So, you have your shelter and base set up, there are plants and trees, and you're ready to roll. When you look at the map, there's blackness over the regions you have yet to explore. The best part of Wildmender is that you will find other water shrines to awaken and then grow, meaning you can increase the reach of the fertile soil.
Also, it will help you reach the world's edges with plenty of water and shade available. What I'm happy to include in my Wildmender review is that there are waypoints along the way. That means you can fast-travel to destinations you've unlocked, as long as you have the required resources.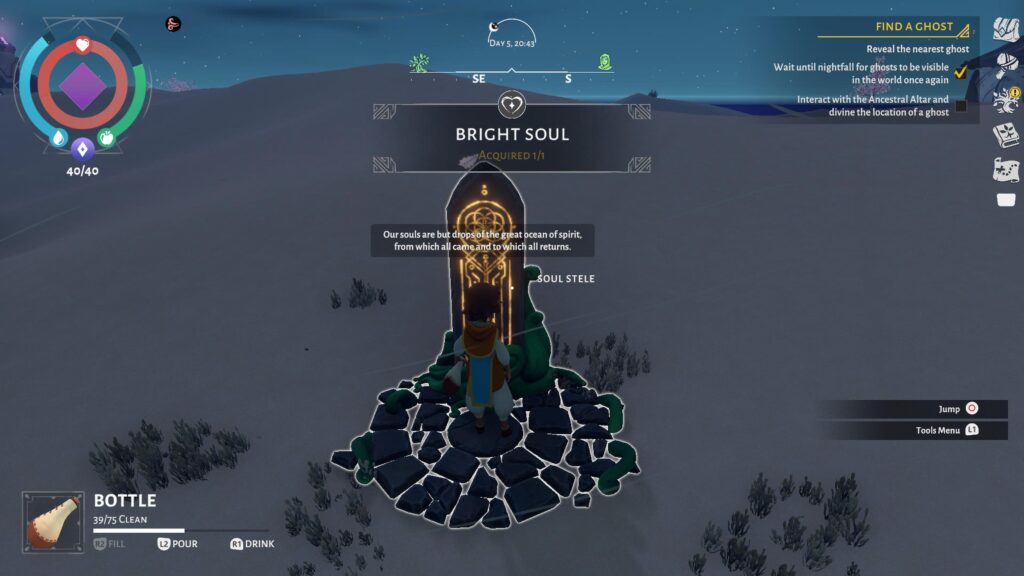 Restoring your Spirit
Some actions in Wildmender require you to use spirit, which you acquire from the plants at your home base and unlocked shrines. At night, you can freely collect spirit energy from your fauna or the objects you place to collect spirits for you. As mentioned before, you need this resource to teleport to other wayshrines, but other tasks require it as well. In my opinion, you'll need to manage this resource almost as much as your water and food.
Dealing with the Demons
I haven't dealt with combat in my Wildmender review, so let me do that now. One primary weapon is a magic mirror that you use to deflect projectile attacks. When done right, you can use this ability to destroy massive demonic structures. Another weapon shoots rays of light at the wraiths, helping you dispatch them quickly. It becomes a dance when you dodge, shoot, deflect, and run away from area damage.
Later on in the game, the combat becomes slightly frustrating, but only when environmental effects come into play. Some surfaces either poison or burn you, which you need to avoid until you can kill the wraiths in the nearby settlements. The more you proceed in the game, the more challenging these enemies become, and you will struggle to proceed with the story unless you lower the difficulty.
Customise Your Home, Appearance, and Skills
As a reward for your care and loving attention, you'll level up and unlock new shelters, items, clothing, and more. Not only can you change how you look with new apparel, but you'll able to customise your home base as you please. There are ornamental structures, a variety of massive trees for shade, walls to keep dangerous enemies out, and much more!
You also have a skill tree of sorts. As part of my Wildmender review, I took a screenshot of some of the skill elements, which are based on the type of friendly ghosts you encounter. Fortunately, you can select which type you are looking for when you pray at the spirit shrine. It's worth spending a few nights unlocking these to become more powerful.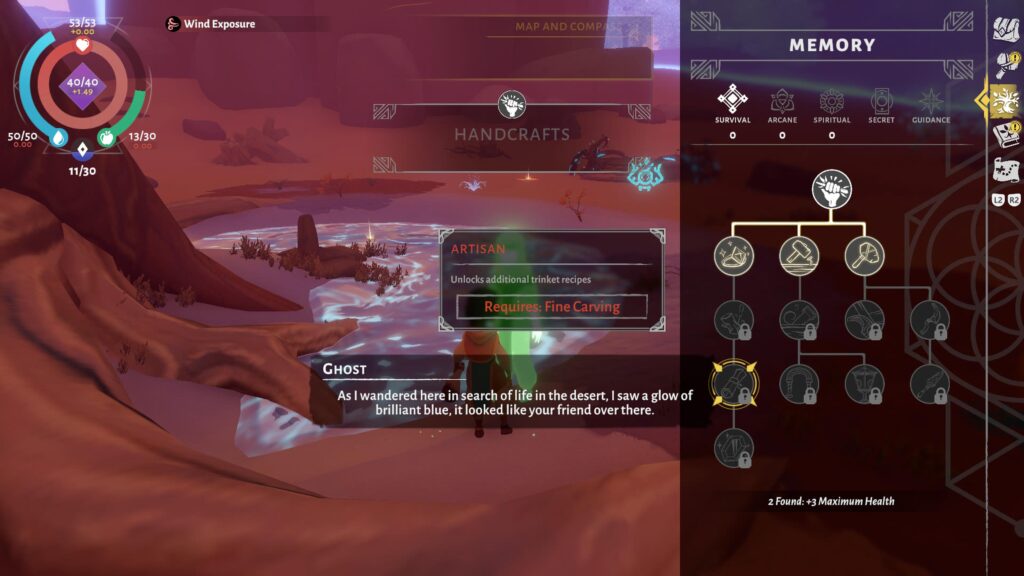 Losing Items Upon Death
During some of the more intense battles in Wildmender, you'll die with your body waking up back home at your base. There's no nice way of putting that. The worst part is that you lose all of those items you hoarded in your inventory pack. It's best to always keep the most valuable items you don't immediately need in your storage box at home. However, it is sad when you find something exciting on your adventure and then die before you can head home.
There's a key element here that I do like, though. You can return to your body wherever you died and reclaim the items you lost. However, you may need to eliminate the threat that killed you in the first place. I did in an area that was poisoning me just by walking through it, so I lost all hope of getting my items back until a later stage.
Wildmender Review Section 3: Graphics and Sound
You're nearing the end of our detailed Wildmender review. Here, I'll cover the visual and audio aspects, revealing how enjoyable the environments were along the way.
Beauty of the Lands
Even with the desert covering all of the land when you start playing Wildmender, there's a certain kind of beauty to it. However, I enjoyed seeing how the sand transformed as I worked on it, making it even more enjoyable to view. At some points, you just want to stare at your base as the sun sets or rises, admiring your hard work.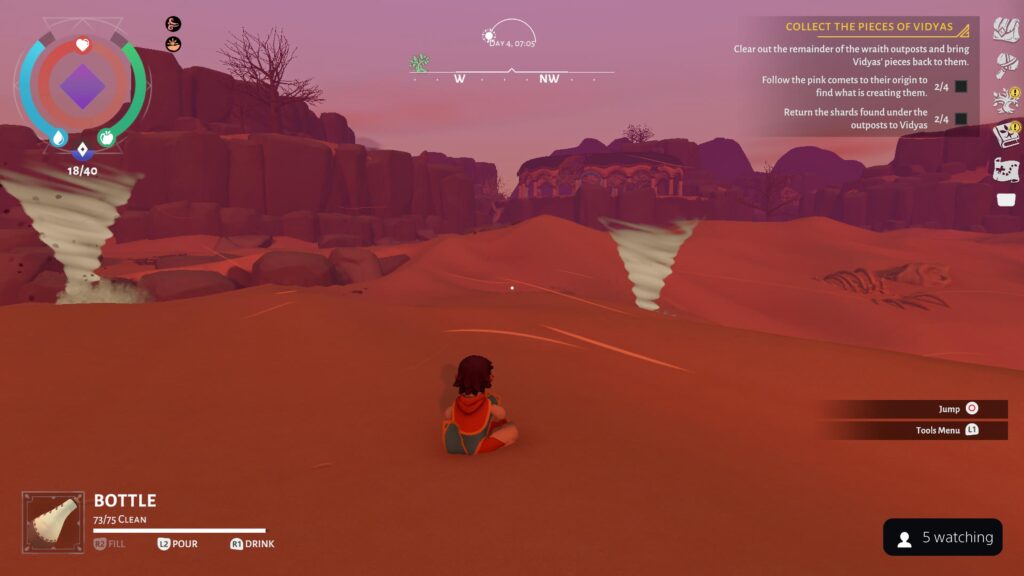 Stunning Environments
While many areas seem plain, others are gorgeous in their own way. You'll find various sub-biomes of the desert, such as the mountain areas or sand tainted with salt that makes you become thirstier as you travel through it. Even some of the villainous structures have been well-designed, while I love the religious shrines that you awaken.
Menus and User Interface
When I started preparing my Wildmender review, I thought about how easy it was to access the various menus and work with the interface on the PS5. You will need to become used to moving between items, which will slow you down at first. Sometimes, I press the wrong button and make a mistake, but that's just part of the lessons you learn along the way. When you perform actions in the menus enough, you'll become used to them.
The icons are gorgeous and easily identify the items you need or want to craft. You'll never have a moment where you stare at a symbol and wonder what it is. As a matter of fact, there are some items that will make your heart skip with happiness whenever you see them from wanting them so badly.
Overall, I love the general HUD (heads-up display) when you're playing the game and running around. You have your life, thirst, hunger, and spirit meter on the top left, with your menu interface icons on the top right for quick access. The compass is on the top centre, while your active quests appear between this compass and the menu interface. The bottom left shows which item you have in your hand with a wheel selection available, while available actions with items are on the bottom right.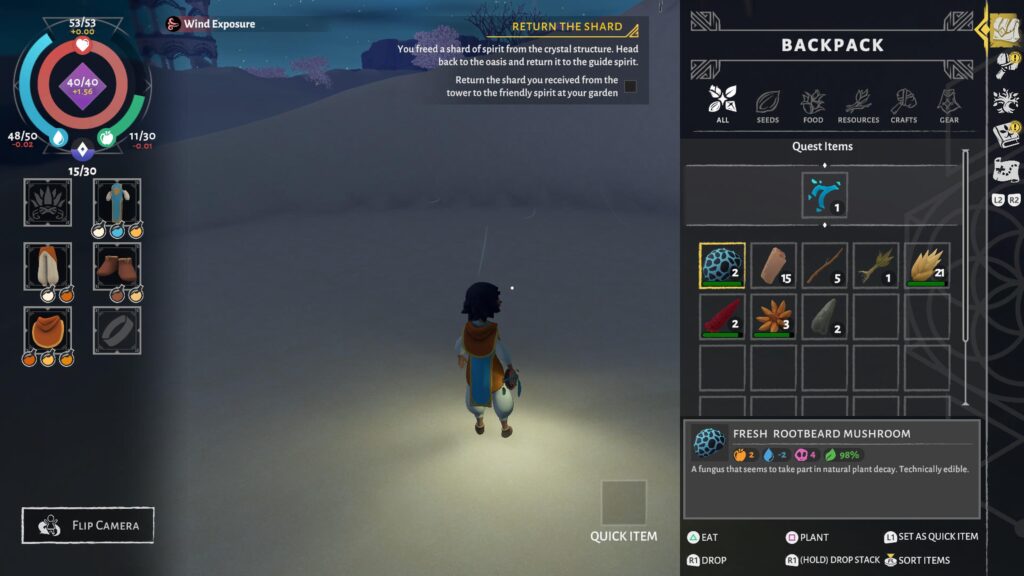 Enjoyable Music and Sounds
While there is no voice acting, you'll encounter three types of audio in Wildmender. The first is the calm music while you're safe and running around the world. This changes every now and again to new songs. When you encounter enemies, you'll hear the music change to warn you that you're in danger.
Finally, you have the action sounds when performing tasks, fighting enemies, or caring for your plants. They're all enjoyable and add atmosphere to the game, no matter what you're doing.
Wildmender Review Section 4: Replayability and Fun
You're at the last part of my Wildmender review. My apologies for keeping you here this long, but I like to give as much detail about games as possible without giving too much of the story away. Let's take a look at how replayable the desert survival game is, if you'll enjoy it, and other similar titles.
Is WildMender Replayable?
At the moment, there isn't a sandbox mode, or none that I saw while playing the game for my Wildmender review. However, you can restart or replay the game at any time to try completing it in a different way. Even when the story ends, you can continue establishing more bases or replanning how they look across the world. In my opinion, there are endless possibilities for replayability.
How Much Fun is Wildmender?
There's no two ways about it. Wildmender is addictive. I spent one night playing the game for my review, going well past 2 am in the morning. Developing your home base is what takes me the most time, as I enjoy it so much. I had to force myself to go out and explore just so I could unlock more skills and gain more resources. I swear, if the game was nothing but building bases and planting fauna, I'd still love it as much as I do.
What Other Games Are Like Wildmender?
There are several crafting or harvesting games like Wildmender you may like. I suppose my biggest attachment to the agricultural aspect is Farming Simulator 22, and not just because I wrote a review on it. There are no demons, and I love watching my crops come to life.
If you're into the exploration or adventure elements, here are some other games like Wildmender to check out:
For those of you who don't play on Console, you can also grab Wildmender on Steam.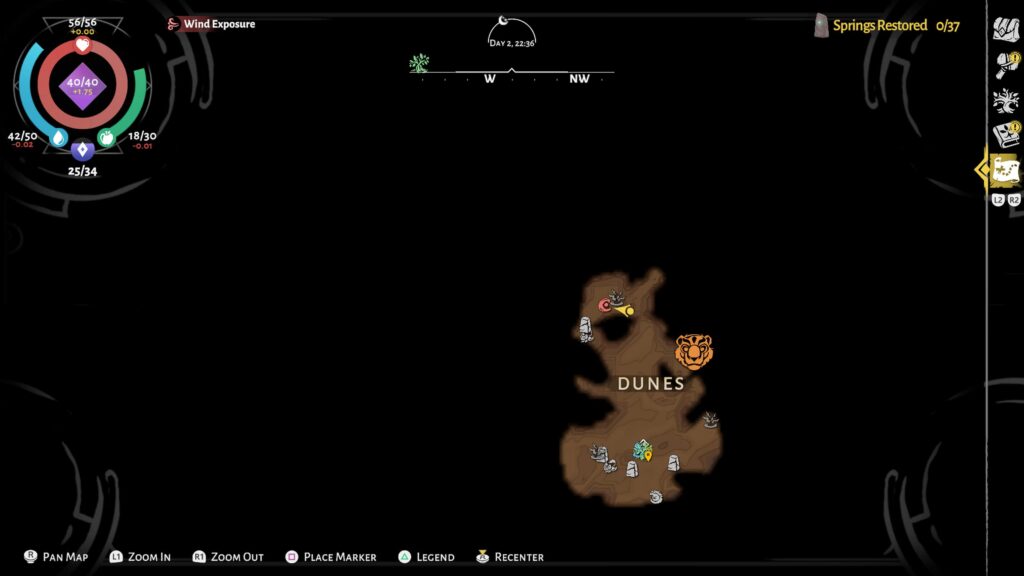 Wildmender Review: Final Verdict
As the final part of my Wildmender review, I can say that the desert survival crafting game is well worth buying and playing. There are so many hours to enjoy, and the gameplay is incredibly addictive. Not only did I love it, but I had so many visitors watching me stream it live on Twitch. If you're looking for a game you can easily become lost in while still containing a sense of adventure, this is the one for you!
If you enjoyed this review, please support me by checking out my other reviews. It's free and only takes a moment of your time!