Castle Renovator Review and Guide | Medieval Adventure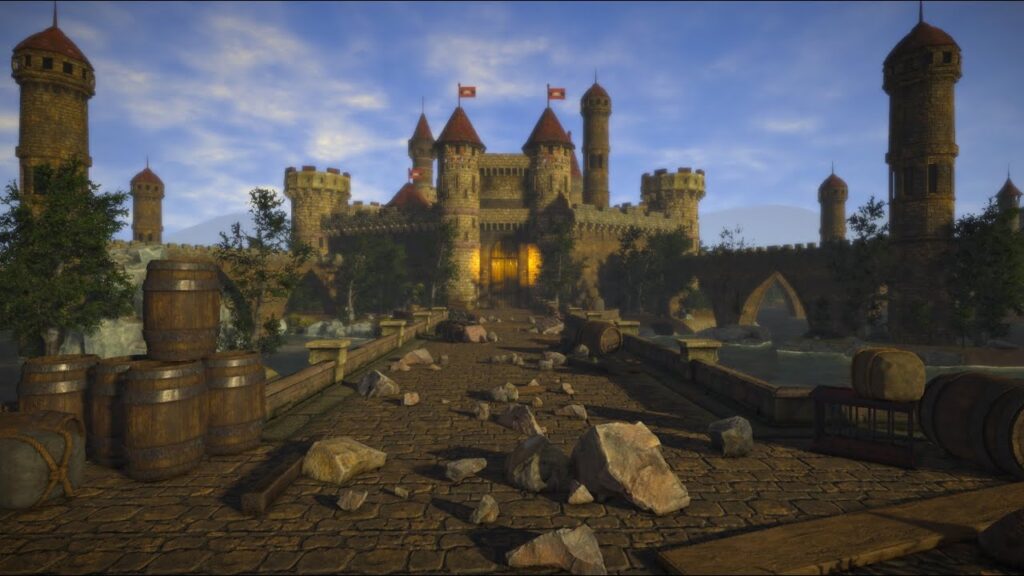 Our Castle Renovator review covers a game created by Pyramid Games and published by Gaming Factory and Ultimate Games on 26 May 2021. It's had some updates since then on the PS4, improving the gameplay elements. It's a casual adventure game with building and simulation aspects built-in for additional entertainment.
Join us on a journey as we show you how to play Castle Renovator, what it consists of, and if it's worth buying. We'll show you the story and gameplay elements in our review, while also discussing the visuals and audio. Are you ready to be king?
Disclaimer: We received a free PS4 code for our Castle Renovator review. That didn't affect our opinions, though. We're 100% honest about how we feel about the game.
Another Disclaimer: This review was written by a human, and not AI.
Castle Renovator Review: Story Elements
We always like to begin our game reviews by looking at the story elements. There are a few sections to cover, which mainly involve progressing in the game. We'll also show you how long it will take to complete and any replayability options.
Welcome to our Castle Renovator review.

A king without a castle
You start playing Caste Renovator by inheriting a portion of land that only has a few items on it. There's no castle as yet, but you'll get there in due course. For the time being, you get to admire the land around you and slowly unlock the capability to create buildings.
Helping your kingdom
The part we enjoyed the most for our Castle Renovator review is that you can complete quests to help others in your future kingdom. There are lords and farm owners having trouble in their buildings, such as mess lying around or rats running through different rooms. By completing quests, you increase your standing with the people.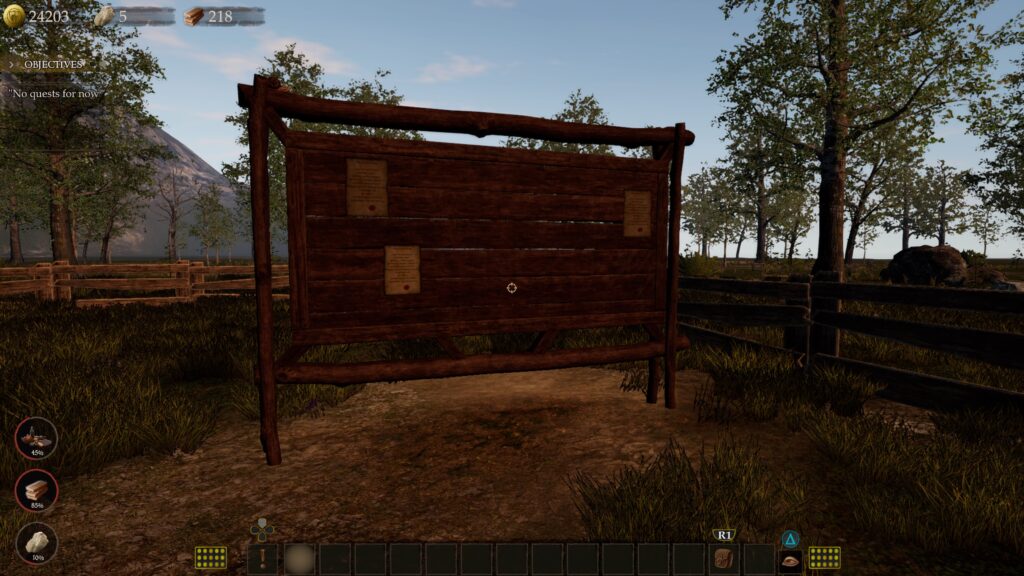 Renting homes to the needy
Once you become more known in the kingdom, visitors will want to live on your land. There are different types, but some of them have unique missions to complete. Once done, it unlocks a special reward, such as supplying more resources or funds every day. Some of them will even open a store or clean the other homes for you.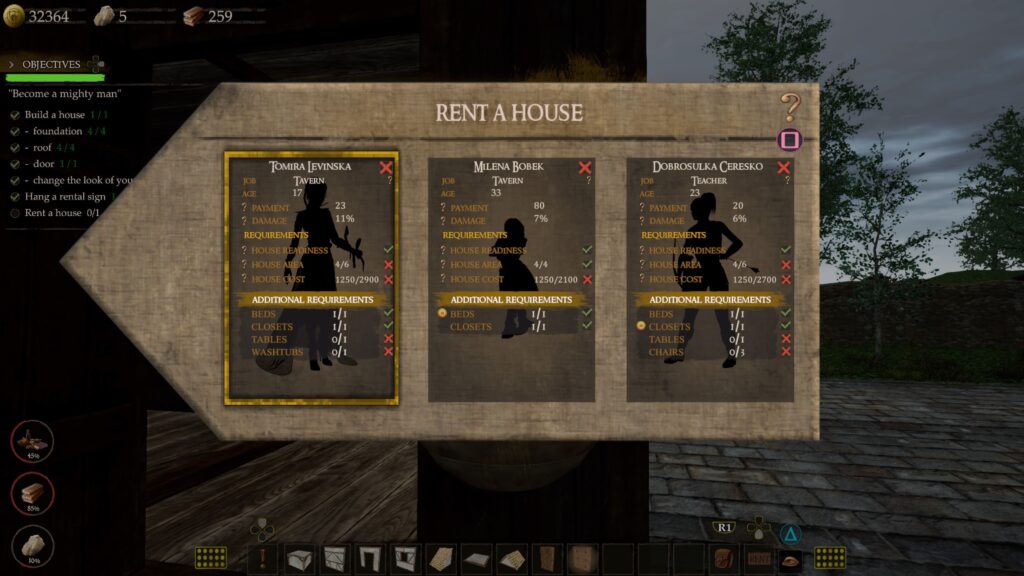 Find treasure
You'll want to keep your eyes open in Castle Renovator. When you're on a mission to clean a castle or help fix buildings on other lands, there are treasures hidden in locked or open areas. You'll notice a small icon that tells you how many treasures there are to find and open. They provide additional resources and crafting plans that will help your progress.
Time to play Castle Renovator
If you only focus on the main missions, Castle Renovator should take you between 8 and 10 hours. Should you wish to expand your land with buildings, get more residents, and complete side missions, it can take you well over 20 hours and into a few days. It's replayable in the sense that you can visit previous locations once you unlock the map with new side quests available.
Castle Renovator Review: Gameplay Elements
Now that you've read about the story aspects in our Castle Renovator review, it's time to share the gameplay elements. In this section, we'll show you how to play the game, what you should look out for, and how we feel about some of the mechanics.
Learning how to play
One of the best elements of Castle Renovator is that there are tutorials for many aspects along the way. It's not just one short guide at the start. When you unlock something new, the game explains how it works and what you need to do. From there, it's up to you to accomplish the tasks.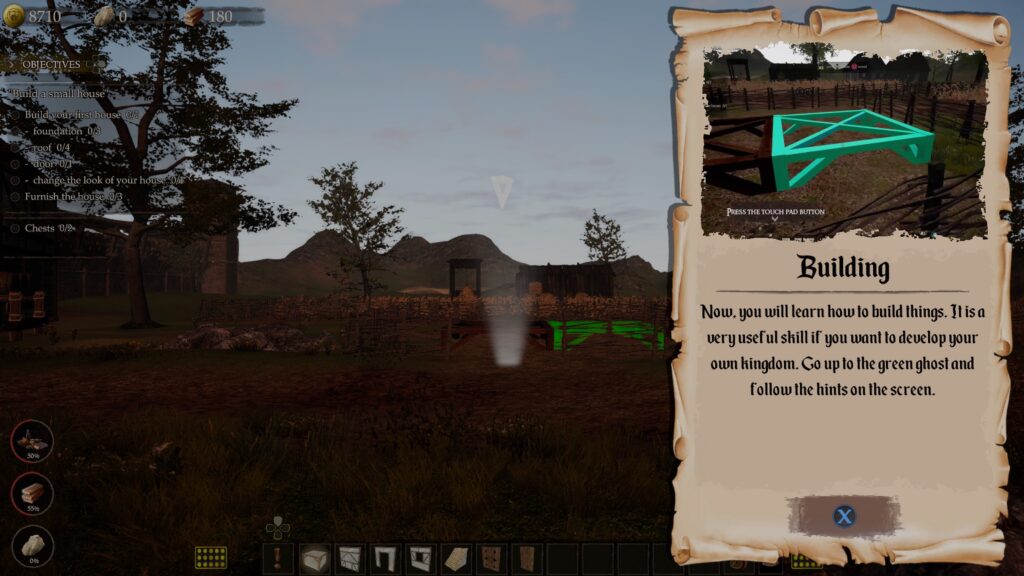 Earning resources
To be a successful king, you'll need to gain resources for your future buildings. You'll need wood, metal, and a few other items. You'll first obtain these through quests that you complete or by helping other lands. Later on, people living on your land will help gather nearby resources in an automated way and store them in the warehouse. I was really happy when the automation kicked in, but you can still do some work yourself if you wish.
Accepting and completing quests
One way you'll increase your resources is by completing quests. A fun aspect I enjoyed for my Castle Renovator review was checking the notice board of new missions. Sometimes, there will be nothing, as you need to first do something on your own land. Once done, you'll quickly see the notice board filling up with requests. The more you progress, the larger the rewards become.
There are different quests. They take you to faraway lands where you end up working on someone else's property. Mostly, you'll need to clean rubble or repair walls and structures. On the odd occasion, you'll need to kill rats or other vermin on the land. I don't recall any intense combat or fighting.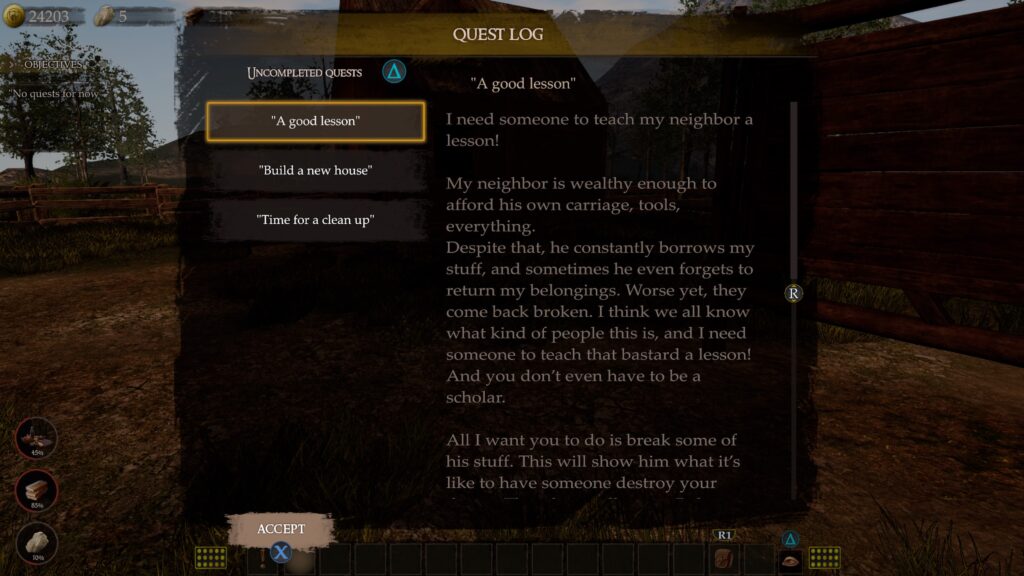 Crafting buildings
I love crafting buildings, which is probably why I'll give my Castle Renovator review a high score. The mechanics are quite easy and reminds me of 7 Days to Die or ARK: Survival Evolved. The walls and floor panels clip into place, which made my gaming life so much easier. I didn't really struggle with any of the elements. I just wish there was a God mode where you can fly around for the higher walls instead of buildings stairs as temporary scaffolding.
The Talent Tree
As you complete quests, you'll receive skill points as you level up. The game lets you assign these skill points in the Talent Tree. You'll be able to spot items that need cleaning, increase your resources, and much more. My own issue is that the ultimate skill at the end doesn't really seem to work or be worth all the trouble. Perhaps the God more I spoke of would have been a better talent. It's one of the less impressive elements.
Furnishing buildings
Part of the crafting experience I enjoyed for my Castle Renovator review is adding furniture to the buildings. Granted, there isn't too much of a selection. However, you need to remember that these are medieval times. How much was really available back then to furnish rooms and homes with? At least unlocking the castle later is an exhilarating experience.
The Workshop
At a later stage in the game, you'll unlock a workshop. You can use the resources and money you've collected to obtain new plans for furniture in Castle Renovator. It's better than games that simply hand you new items, giving you new scope to enjoy. Sadly, there isn't always something exciting to unlock, and it just adds a new variation to an item you've seen before.
Expanding your kingdom
There's a small signboard at your main gate to the land you own. When you click on it, it shows you new plots you can buy to expand the land for more buildings. One of your top goals should be to make enough money to buy them, which will unlock new quests and provide more resources daily. The more homes you can place in your kingdom, the richer you'll become.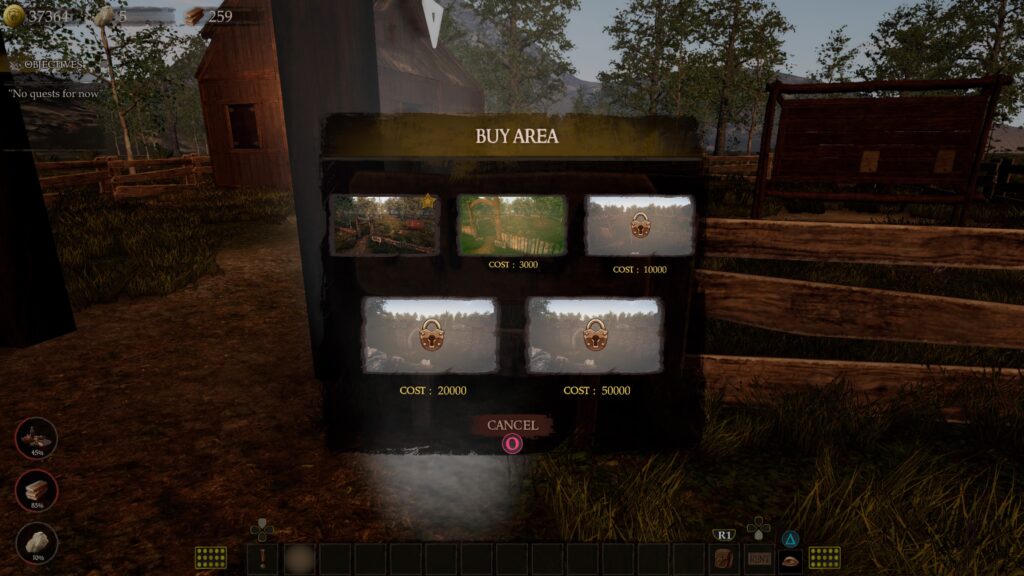 Becoming king in Castle Renovator
Towards the end of the game, you'll have the option to become king of your kingdom. When you place the throne chair, it will show you what you need to do to claim it.
Here's what you need to become king in Castle Renovator:
Purchase all the plots
Rent 10 houses out on your land
Obtain 50,000 Flippers (in-game currency)
Build a castle with at least 50 parts
Complete all the main missions on the noticeboard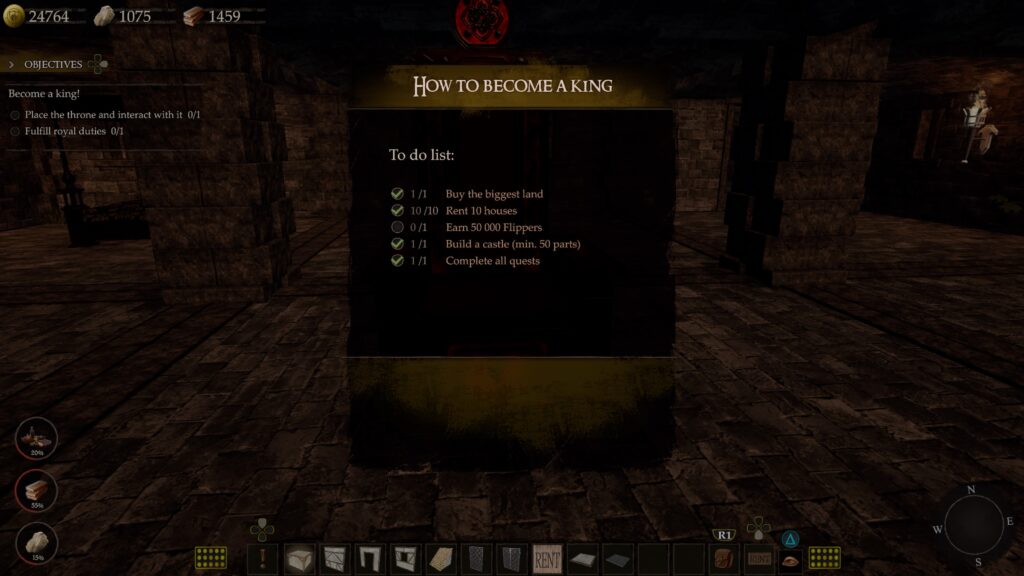 When you're done, you'll unlock a map of the kingdom, where you can travel to any location to help with more side quests. At least the game lets you know when you've fully completed it, which we did for our Castle Renovator review.
Castle Renovator Review: Visual and Audio Elements
The final part of my review of Castle Renovator for the PlayStation looks at the visual and audio qualities. Now, these might not be the best aspects of the game, but that doesn't really take much away from the other elements we've covered.
Different environments
One thing that stands in Castle Renovator's favour is that there are different environments to explore. One of them includes a massive ship that you need to help repair. It means you don't deal with the same scenes in every mission.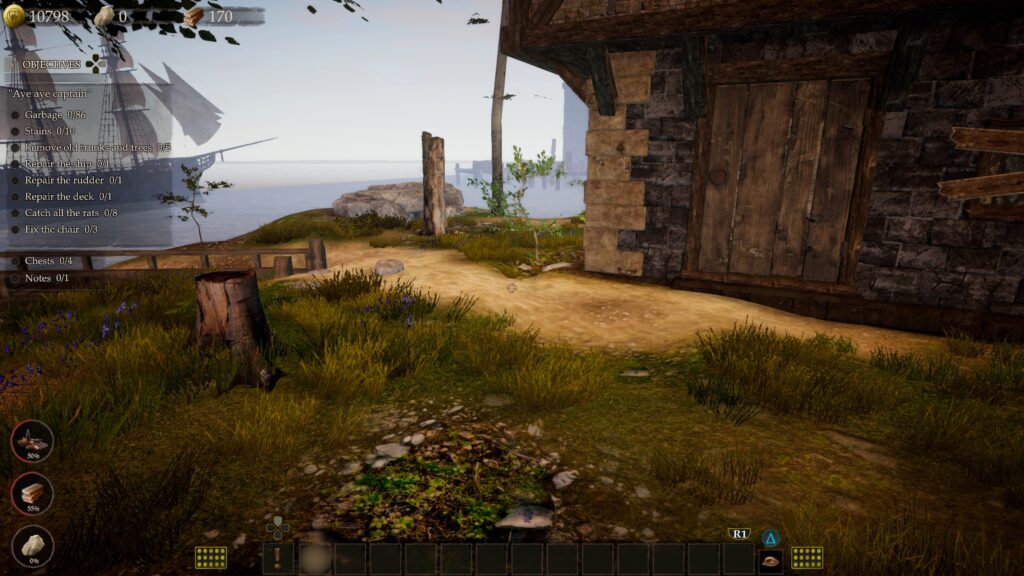 Dealing with the visuals
As mentioned before, the visuals are similar to what I've seen in ARK and 7 Days to Die, but perhaps not as refined as these games. The graphics work well for a game based in medieval times, but sometimes they seem broken until you reload the game again. All in all, there's room for improvement, but it's still impressive what the team managed to achieve.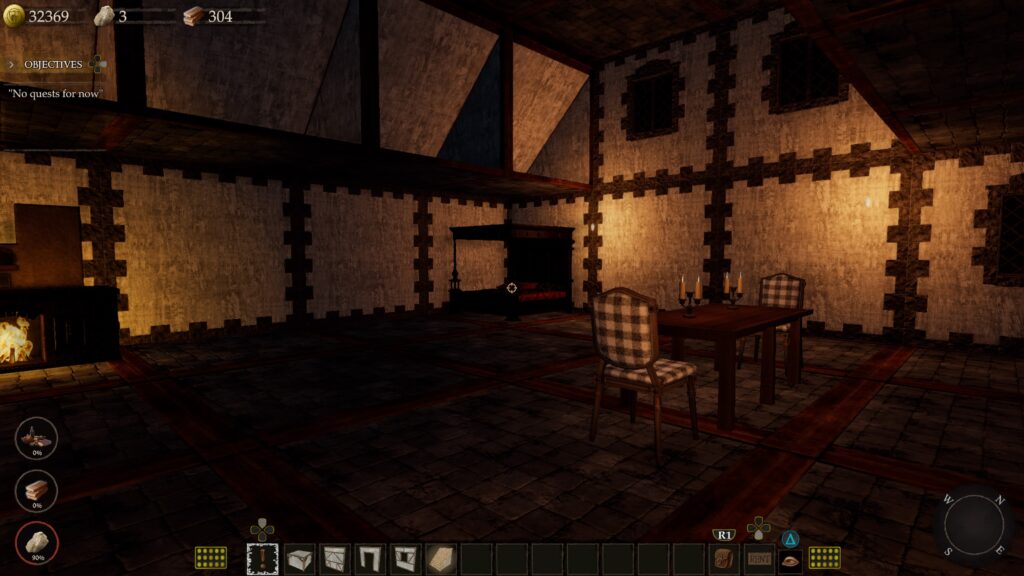 Repeated music and sounds
At first, hearing the medieval music in the game is fun, and you'll want to tap your feet to it. It eventually becomes really repetitive, with only a few songs on the playlist. Specific areas or missions have tunes assigned to them, and the continuous blasting of medieval instruments becomes annoying. I chose to play my own music in the background instead.
Castle Renovator Review: Final Verdict
As for my final verdict in my Castle Renovator review, my feelings are mostly positive. The game delivers an entertaining experience, and I didn't want to stop playing. While some visuals, the audio and the Talent Tree need improvement, it doesn't make you want to switch the game off at any point. You'll want to keep going until you're finally king of your kingdom. It's definitely worth playing for anyone that loves simulation and building games.